Teaching Jobs in Madrid
Employment in Madrid: English teaching jobs and employment in schools, academies and agencies in the Community of Madrid.
Hiring 40 teachers per year
In-company language teacher at Interlang!
Job / Employment title: In-company language teacher – we teach mainly English but also French and to a lesser extent German, Italian, Portuguese and Spanish.
Academy: Interlang.
Website: https://air.interlang.es/work-with-us 
Location: Interlang is based at C/Estrecho de Mesina 13, 28043, Madrid (Metro Arturo Soria), but most of our classes are in central Madrid with some in the surrounding areas.
Need the teacher by: We are always recruiting as classes come up constantly so please apply if you're interested. Minimum experience required: preferably 2 years teaching experience with some professional experience prior to teaching. We are looking for career teachers who really love teaching.
Description of the academy: We are a Language Centre offering the highest standards of language services to our clients.
Conditions of employment: Preferably have a TEFL qualification and minimum of 2 years' experience. Non-EU citizens must have working papers in order. 
Salary: We employ teachers both on contract and on a freelance basis at very competitive rates.
Contact information: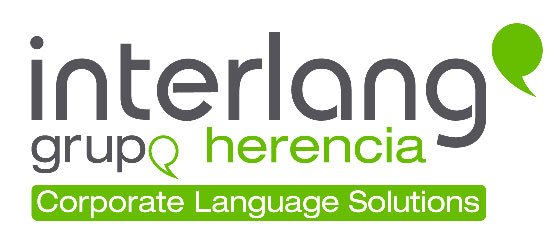 About US
About Interlang
Interlang's main activity is Face to Face group and 1:1 extensive in-company classes. By extensive we mean for the whole academic year – September / October to June / July. However, we also provide our clients with telephone classes, blended learning (mix between teacher lead and online lessons), online tutoring for online courses, as well as business skills seminars, intensive courses and residential immersion courses.
Interlang has continued to grow steadily in recent years and this is due to the high quality of the service we offer, our excellent teachers and constant innovation in new teaching methodologies. Unlike some language schools we do not have our own particular methodology, so our teachers have a lot of freedom to use a wide variety of course-books and teaching techniques in the language learning environment. We also provide content support via our platform with established learning paths and digital resources developed by ourselves in-house.
Teachers are paid by bank-transfer at the beginning of every month. Though most hiring takes place between June, July, September, October and January, we have a constant need for good teachers and so are recruiting all year round.
Hiring 25 teachers per year
Languages21 offers a wide range of services to its clients ranging from telephone classes, virtual online classes, and face to face classes

!

Job / Employment position: Professional Business English Language teachers for telephone, virtual and in-company classes. We also employ French, German, and Portuguese teachers.
Academy: Emerald Languages21.
Location: Avenida Doctor Garcia Tapia, 157, Planta 1.
Needed by: We are continuously hiring teachers throughout the year. Minimum Experience: We prefer to work with experienced teachers, preferably at least two years in-company language teaching experience. We also highly value teachers who have previous experience in a professional company setting. We provide an initial specific training course in our telephone classes method and a wealth of material from our online platform. Teachers should be motivated, friendly, and professional.
Description of Academy: Set up in 1997, Languages21 offers a wide range of services to its clients ranging from telephone classes, virtual classes (web conferencing), face to face classes and intensive courses. Languages21 is a friendly company to work for and prides itself on taking care of its teachers and giving help and support where needed.
Conditions of Employment: Teachers work both part-time and full-time for us, both as freelance and on contract. Please email us your CV or call us and we will organise a personal interview for you.
Salary: Teachers work both part-time and full-time for us, both as freelance and on contract. Please email us your CV or call us and we will organise a personal interview for you.

Contact information:
Person:

Ana Martin

.
Telephone: 91 751 5544.

About US
About Languages 21
Telephone Teaching opened in 1997. In November 2008 Telephone Teaching became part of the Corporate Language School within elogos, which was Spain's leading online training consultancy company. In 2014 we changed our name to Emerald Languages21. Most classes are off-site and either take place by telephone, or web conferencing. Teachers also give classes on our client's premises and from the fully equipped meeting rooms we have available at our work centre in C/Lagasca. 
Teachers are provided with all the materials they may need, and we have detailed teaching manuals for the telephone classes we give, which also then serve as a guide to the teacher to be able to adapt their own material for effective telephone teaching. For less experienced teachers we provide an initial Telephone Teaching 2-hour training session working with the manuals followed by a demo class with a volunteer student. Teachers have access to an online library with over a thousand prepared classes, videos, ESP material etc. We also have a collaborative space where teachers can download (and upload!) material, shared by themselves. Online Training sessions and workshops on new and innovative teaching methods are given through interactive Webinars. 
We value teachers having a TEFL certificate and at least two years relevant teaching experience. Having work experience in a business setting is an advantage. A personal face-to-face interview (or online video conference) is a must. We have no preference for either British or Americans teachers and welcome Spanish applicants who are bi-lingual. Around 20 new teachers are hired yearly, and more than 15 teachers have been at the school for over 10 years.  There is a great deal of trust between teachers and management. Teachers do not need to call in about re-scheduling problems, for example, and during the holidays are free to re-schedule their students as needed. End-of-month paperwork is sent by email and we pay teachers promptly, on the first working day of the next month.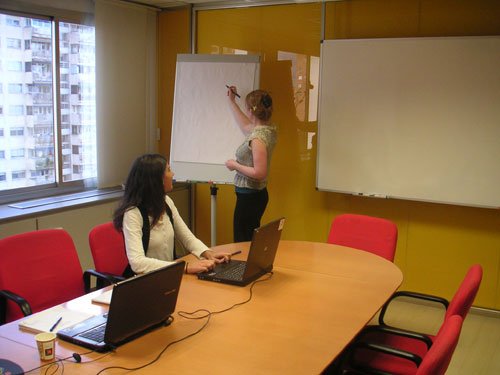 Contact Them Today!
If you are interested in teaching any languages, such as English, in Madrid, here is somebody that is looking for you.